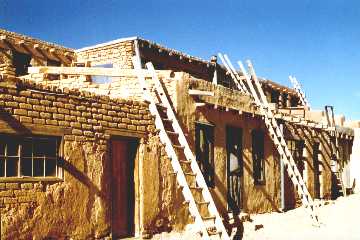 Zwar leben die meisten Acomas in umliegenden Orten, doch das alte Pueblo wird immer noch von etwa einem Dutzend Familien bewohnt.
Die Häuser, deren oberen Geschosse mit Leitern erreicht werden, haben weder Wasser- noch Stromanschlüsse.
Bekannt sind die hervorragenden Acoma-Töpferarbeiten, die hier entstehen und zu den schönsten New Mexicos zählen.


---
"At McCarty's we left the high speed travellers behind and took the road through Acoma country to the Acoma visitor center."
See more at the exciting Voyage to Another Universe - 1994 by Karen M. Strom about Acoma and many other southwestern locations.