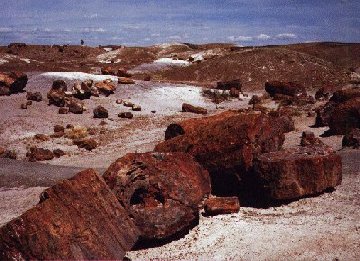 Vor etwa 225 Millionen Jahren wuchsen zapfentragende Bäume in dem damals sumpfigen Gebiet beim Petrified Forest National Park. Totes Holz, sagen die Geologen, wurde vom Hochland, dem damaligen Standort der Bäume, von Strömen in tieferes Gebiet befördert. Dort wurde es dann von Sedimenten überdeckt, deren Silikate die Versteinerung des Holzes bewirkten. Eisenoxid und andere Mineralien sorgten für die Verfärbung der Fossilien, welche man heute in großer Zahl an vielen Stellen des Parks an der Erdoberfäche sehen kann.



The Petrified Forest National Park contains an abundance of petrified logs from coniferous trees. Most of the brilliantly colored trees are prone, and many are in fragments. The early dinosaurs once roamed the area and numerous fossil bones and fossil plants have been discovered in the park.
There are five areas with heavy concentrations of petrified wood in the park. Within the park it is unlawful to gather plants, sand, rocks or specimens of petrified wood of any size whatsoever; archeological material is likewise protected.