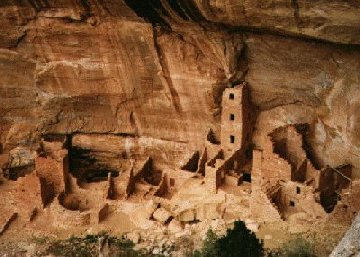 Was die Anasazi-Indianer veranlaßt hat, ihre Cliff Dwellings von Mesa Verde, aber auch Hovenweep, Chaco Canyon und Canyon de Chelly um 1300 zu verlassen, dazu gibt es nur Vermutungen der Archäologen.
Jedenfalls wurde
Square Tower House
zusammen mit Cliff Palace und Spruce Tree House erst 1888 von zwei Ranchern aus der Gegend wiederentdeckt.
Während die meisten Räume des mehrstöckigen Gebäudes zusammenfielen, blieb der Teil, der wie ein vierstöckiger Turm aussieht, allein stehen. Dieser Turm gab dem Dwelling seinen Namen.



Mesa Verde Country was home to the Anasazi Indians for more than 1,000 years. The people that first built their houses here at the time of the Roman Empire farmed the mesas, plateaus, river bottoms, and canyons.
Square Tower House, one of the most photogenic dwellings in Mesa Verde, was occupied between A.D. 1200 and 1300. At one point, more than 40,000 "ancient ones" lived in this country. Then they mysteriously disappeared.